Refuge Forums
Duck Hunters Refuge Forums
Morning Fellas -
Well, its finally started. We got this old log cabin for my Missus' last Nov. for her birthday. Turns out, it was from her mothers' side of the family 150 yrs ago, but didn't know it until after we bought it. She has always wanted one but we had no idea how to put one up. A good friend of ours did and he volunteered for the project.
What a job this is. And, let me tell you, these old Popular sticks are HEAVY!
The dims are approx. 15 x 16 and will be about 7 1/2' tall on the in-side walls. We will have a front porch of some size, depending mainly on what size old timbers and barn wood I can scrounge.
so far, its taken 3 full days to get it this far.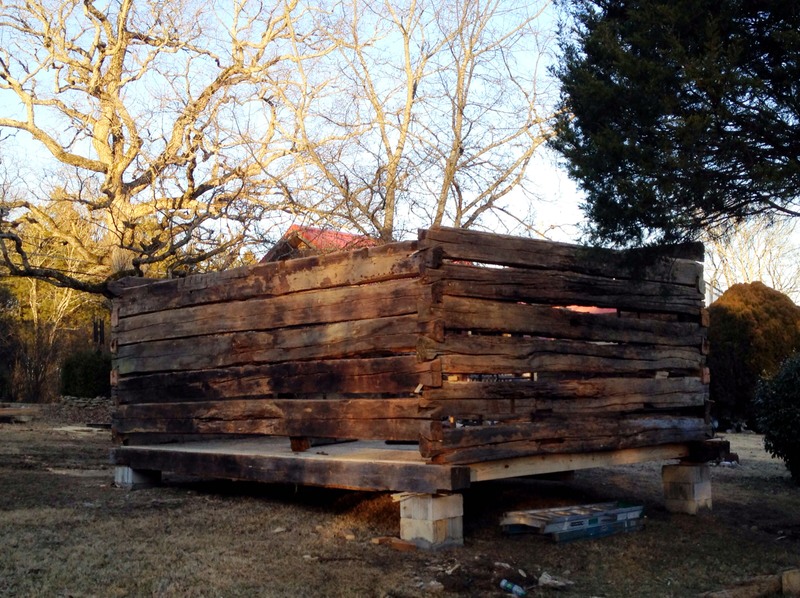 I reckon we'll start on the roof trusses next week. Then the chinking. She sure is a happy camper. Little Maggie Mae will have a nice cool spot to sleep under the porch.
I hope this project don't get in the way of Crappie Fishin'.....
Me, Maggie, & Stuff'........
Activity at the feeder has gone up as they are getting ready for the big migration.
The Guardian of the feeder
Some Juveniles
Mike
Today I was at the river and the swallows were lined up thick on the high lines.
They are migrating already.
I have only seen this once before in 1979 and we had a hard winter.
Our duck hole froze up early.

So it will be interesting.
I need to man vent

I know it's been talked about and know it isn't going to change anytime soon. But the price of decoys are ridiculous and they're resale value is crazy as well. I'm a big component of the free market. But the raw material and overseas manufacturing is so cheap to be charging these prices. Someone has to come out with a decently priced decoys. $300+ per dozen is insane. Everyone is always going crazy over REALISM. You realize people kill geese over silhouette (literally pictures of birds on a stick) and even trash bags. I'm blessed to have a good paying job. But I don't know how the average hunter does it. I hate spending that much money on principle

Alright I'm done crying. But I'm still mad
Not how old you act please, your actual age.

I'm 53 years old, but don't feel a day over 63 years old and I've been hooked on quack for 46 years. Can't get enough of calling and watching birds react to the call. Without the calling aspect of hunting waterfowl, I most likely would have lost interest many, many years ago.
It used to amaze me to see how birds reacted to my fathers calling, when I was a youngster and I've loved hunting birds ever since.The things that hold me back these days is lack of birds in the area, lack of funds and back, neck and nerve pain in my hands and legs and feet.
My favourite all time goose hunt. Baby girl had made a duck decoy out of cardboard and I put a piece of cpvc pipe on it for a stake and we had to use it. I let her blow the goose call and low and behold in come to greaters locked and feet down. They fell right in the decoys. She tells everyone that her decoy and calling pulled them right in. She had the time of her life. She's not ready to shoot yet but it was nothing but high fives when I dropped them.
I seen their new Honkers on their FB page. Oh man. Those look scary good.
So what's the best value in breathable waders these days? It's been a long time since I've nought waders but it's anout that time and I think I wanna try the breathables. I've always been a Lacrosse guy for neoprenes, are their breathables as good?
How about stocking foots? Seem like they'd be nice when walking long distances.
What's the braintrust say?
Just a few finished up and shipping out
STUMP